What to See and Do in Adelaide
Hire a bicycle and explore the surrounding parklands or the Torrens Linear Park - or, better still, both.
Dine on the perfect apple or punnet of strawberries bought from a street vendor while you walk to the Jam Factory Craft and Design Centre, or to the cafes and boutiques of the East End of Rundle Street.
See literary reputations made - and shattered - over a cold beer during the Adelaide Festival's Writers' Week.
Take the O'Bahn bus to Tea Tree Plaza, the bus to Cleland Conservation Park in the Adelaide Hills and on to Aldgate, or the 1929 vintage tram to Glenelg and eat fish and chips on the beach. For the young at heart, parasailing provides a wonderful view of the Adelaide coastline.
If you're a snorkeller or scuba diver, explore the Port Noarlunga under water aquatic reserve.
Take a trip back in time to the Port Adelaide historic precinct, with its atmospheric old pubs, and maritime and railway museums.
Explore the natural mysteries of the St Kilda Mangrove Trail, or the man-made mysteries of the Investigator Science & Technology Centre.
Take a guided tour through the Central Market, a riot of colours, smells and flavours and dine in one of the 50 or so restaurants in neighbouring Gouger Street and Chinatown.
Pretend you're Pavarotti and hum an aria or two with a romantic gondola ride on the River Torrens - before visiting the Festival Centre to hear the real thing.
Late at night, enjoy a coffee in one of North Adelaide's O'Connell Street cafes, or dare to be different by eating a pie floater at one of Adelaide's unique pie carts.
Explore the world's finest music, dance and theatre during the biennial Adelaide Festival (March/even years)
Take in the magnificent panoramic views from the Mount Lofty Summit.
View Australian wildlife at its most active on a guided dawn or sunset walk through Warrawong Sanctuary.
Wine tasting is a must in the Wine State whether in a wine bar and by the glass or "buy" the bottle from one of the 16 wineries in the Adelaide Hills and Plains.
And when you've done all this, chance your remaining dollars in the splendid-looking Adelaide Casino.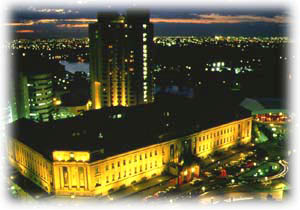 For more information visit the Official Website of the Adelaide Convention& Tourism Authority
---
If visiting Perth in the near future, be sure to visit the newly opened Quest Apartments, one hour's drive south of Perth, at Mandurah. This brand new complex has studio rooms, 1, 2 and 3 bedroom apartments.
For more information and Online Bookings Click Here