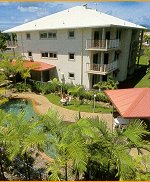 Feature Apartments in Cairns
Cairns Reef Apartments & Motel

This property is situated on the Bruce Highway as you drive into Cairns from the south, and is approximately 5 minutes from the city. The 3.5 star complex has a mix of motel, hotel and serviced holiday apartments accommodation in a cool, tropical style environment near the Trinity Inlet in the Cairns City southern gateway. The property is a popular choice for Queensland, interstate and overseas visitors.
While staying in this part of town, guests can access the nearby Cairns Golf Course, stroll next door to the local shops and McDonalds or get out and discover the natural wonders Cairns has to offer.
The resort-style apartments are airconditioned and contain ceiling fans, a private balcony, televison, laundry facilities and a fully equipped kitchen. Motel and hotel rooms include ensuite, airconditioning, ceiling fans, refrigerator and tea and coffee making facilities. This affordable accommodation property, built in the mid 1990s, also offers spacious, easy access undercover parking.
670-678 Bruce Highway
Cairns, Queensland
Australia 4870 Tel: 4033 0522 (From Queensland)
Tel: 07 4033 0522 (From Interstate)
Tel: +61 7 4033 0522 (From Overseas)
Fax: 4033 0640 (Use above prefix numbers)
Email: info@cairnsreef.com.au
Click here for more information

Standard Rate
Special Internet Rate
$85
$60
Rates are in Australian dollars, include applicable taxes, and are per room per night. One or two adults can share a room, also 2 children up to 12 years of age are free. Additional adults are $22 per person. Rates are subject to availability. (Excludes event dates) When making contact be sure to apply for the 'Special Internet Rate'. To access this rate you must email, phone or fax the property direct
To contact Metro Hospitality Group Central Reservations telephone, in Australia, toll free 1800 00 4321 or email info@cairnsreef.com.au